LEEDS



A few hundred people gathered to protest outside Leeds General Infirmary this lunchtime then created an impromptu march into town with music, drumming and lively chanting.

The march was organised by Leeds Keep Our NHS Public but it had broad support and a very good response from the public as it paraded through the city centre. Story covered by the Yorkshire Evening Post, and KONP Secretary John Puntis did an interview with radio Leeds


LEICESTER


Around 50 people gathered in Leicester to demonstrate their support for the NHS and to protest at the underfunding of the service. Demonstrators gathered outside the city centre site of University Hospitals of Leicester as part of the nationwide action in support of the NHS.

Particular concern was expressed about the failure of government to pay staff properly and address the staffing crisis and about threats in the STP to leave the people of Leicester, Leicestershire and Rutland with insufficient acute and community hospital beds.


SHEFFIELD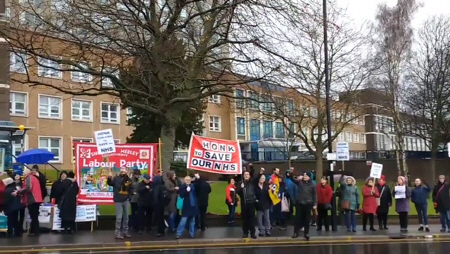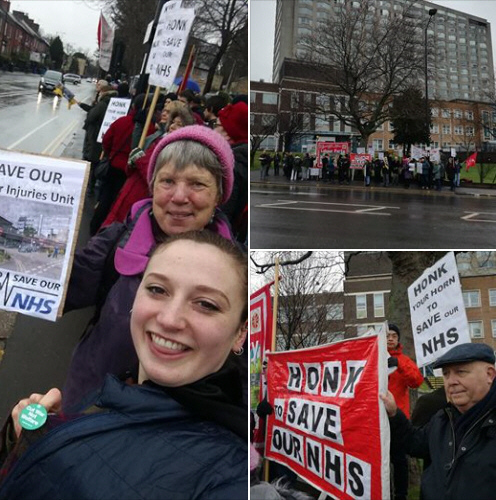 We have been campaigning to defend our Minor Injuries Unit, and gathered from 11am to protest outside the Royal Hallamshire Hospital. Loads of cars and buses tooted support to us in the rain. We got coverage on local and national ITV news.


SOUTHAMPTON
Over 200 people braved the cold and rain to a Rally at Southampton's Bargate calling for an end to the underfunding of our NHS resulting in another avoidable Winter crisis.

Joyce Still from UNITE's national executive and Southampton Labour MP Alan Whitehead addressed the rally, whilst Southampton Keep Our NHS Public collected over 400 signatures to demands for the Government to end the crisis in our NHS.

NHS campaigners came from Dorset, Wiltshire and the rest of Hampshire. In addition the Southampton Echo ran a full page ad in support of the Rally.


MIDDLESBROUGH
"No health sell-off", demands Maggie Gee, supporting the #FundOurNHS protest outside James Cook University Hospital in Middlesbrough. Protestors braved the elements to make their point.


GLOUCESTER
Video of a splendidly noisy protest in Gloucester.
BRISTOL POST
Report and video of brave mother Nicola Romero telling the Downing Street rally the harrowing tale of how underfunded mental health services tragically failed her daughter Becky.









Bedford Luton MK






Bedford Luton MK






Bedford Luton MK






Chester






Chester






Chester






Dorset






Huddersfield






Huddersfield






Huddersfield






Huddersfield






Huddersfield






James Cook University Hospital Middlesbrough






James Cook University Hospital Middlesbrough






James Cook University Hospital Middlesbrough






James Cook University Hospital Middlesbrough






Newcastle






Newcastle






Newcastle






Nottinghamshire






South Tyneside






South Tyneside
















Leeds






Leeds






Leeds






Macclesfield






Southampton






Stafford






Stroud