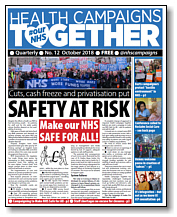 Health Campaigns Together
newspaper No 12 - ALL SOLD!
As we go into our 4th year of publication,
order now
for issue 13 (January 2019) to avoid disappointment.
Features will include the Safety Campaign, reports from our Social Care Conference, updates on the Winter Crisis and a review of a new book on PFI.
Order and pay in advance for any sized
bundles
of
all 4 issues
in 2019
ONLINE NOW
and SAVE 10% of the normal cost!
Hurry, offer ends January 5 2019.
Every issue is
FREE to read online.
For campaigning, order bundles
ONLINE NOW
.
DID YOU MISS OUR EARLIER ISSUES?
Download back issues of the newspaper here

Social Care conference a big success
Well over 100 people from all over England took part in the successful Reclaim Social Care conference called by Health Campaigns Together in Birmingham on November 17, in collaboration with the Socialist Health Association, the National Pensioners Convention and others.
More pictures and reports, along with background facts and info on social care, are available
HERE
.