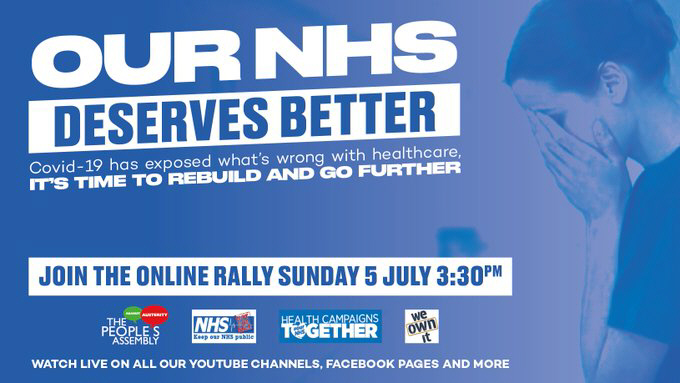 Our Sunday afternoon rally reached an audience of over 60,000 - and can be viewed on Youtube now


NHS 72 Anniversary events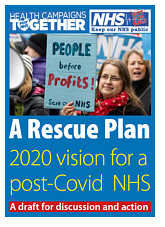 Campaigners were active in many parts of the country on July 3 and 4 to commemorate the 72nd anniversary of the NHS on Sunday July 5 - and press for a change of government policy to ensure it can live on for another 70 years.

The NHS was established on July 5 1948, in the aftermath of World War II, (a conflict that saw 67,100 British civilians killed) to create something better for us all.

During the coronavirus crisis in 2020, NHS and Social Care workers have been called upon to work on the frontline to keep us safe. They have often had to work without proper resources and PPE, within an already failing system. Many have been forced to sacrifice their lives. In the UK we have now reached the frightening number of excess deaths linked to coronavirus of 64,000 (up to 28 May 2020), the second-highest death toll in the world.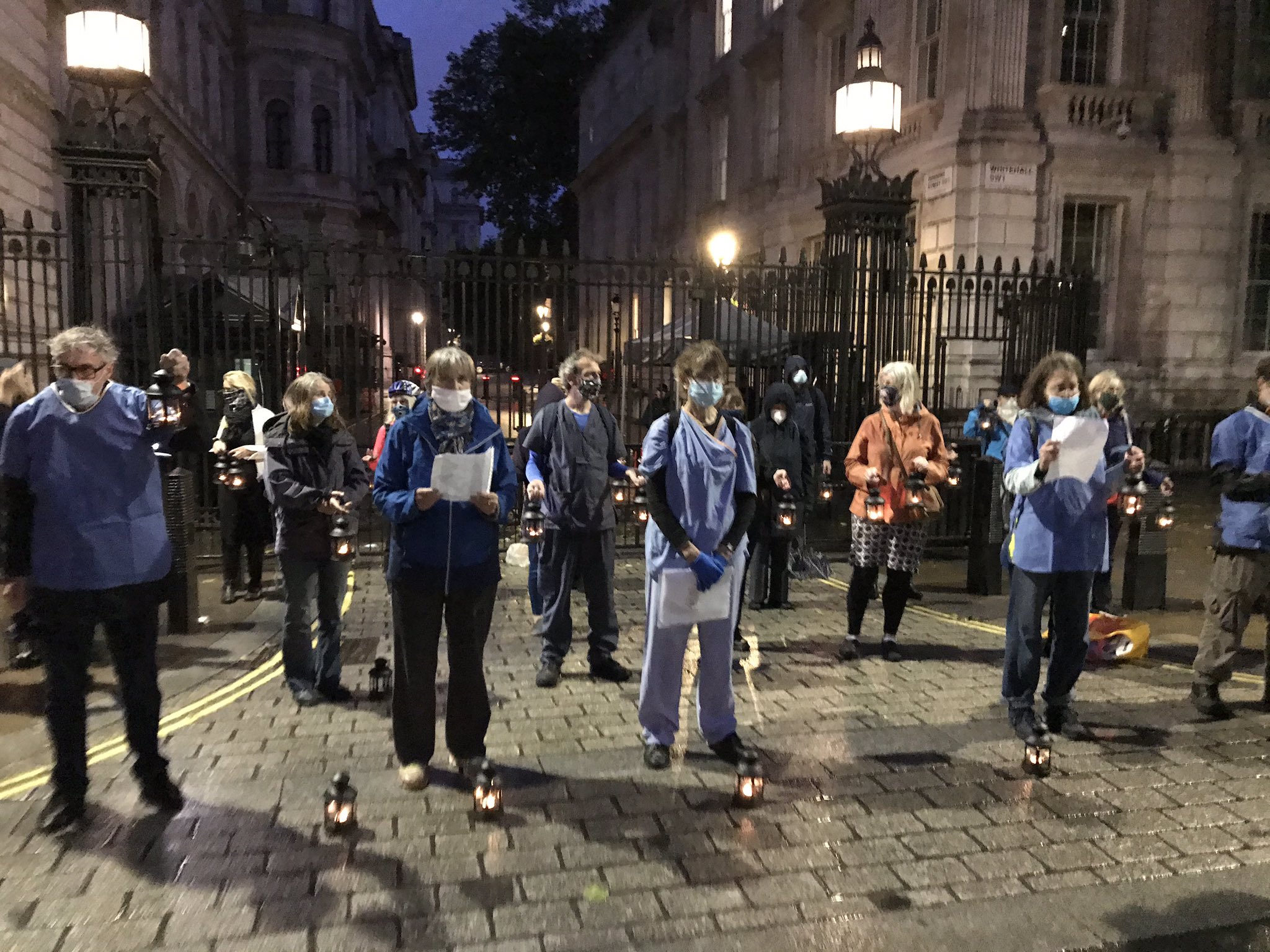 The Downing Street vigil
On the evening of Friday July 3, and covered by mainstream media including Sky News and the Evening Standard, protestors carried 65 lanterns from St Thomas' Hospital in South East London, over Westminster Bridge to Downing Street. Keep Our NHS Public joined up with campaigners from The People's Assembly Against Austerity, We Own It and Health Campaigns together for the evening protest, with each lantern representing 1,000 "excess deaths" in the UK during this pandemic due to the Government's botched response. Upon arrival at Downing Street NHS staff read out the names of colleagues who had died from Covid19, to date.


The NHS deserves better, we all deserve better.
The continuing death toll is a damning indictment of recent Government policy and its mishandling of our NHS. When we emerge from this deadly crisis, this can no longer be tolerated. This is also a critical moment when the systemic inequalities in our society are starker than ever.

We, therefore, demand an immediate end to the hostile environment, all migrant charging to be stopped and an urgent investigation into the disproportionate death toll in Britain's BAME community during this pandemic.

Likewise, the many disadvantages placed on disabled people and others with additional needs have never been clearer. We believe this moment gives us a unique opportunity to demand we not only rebuild the NHS but go much further and call for radical reform of social care provision.

Covid-19 has exposed what's wrong with healthcare. Now, in the 'spirit of 2020', it's time to rebuild and go much further.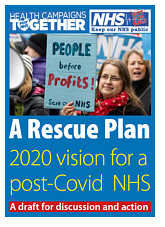 On July 5 we launched our draft Rescue Plan as a basis for discussion and united action. We need to convince politicians of all parties to support policies that will equip our NHS and social care system to meet the challenge of coping with ongoing Covid infection while also restoring routine and that have been cut back or suspended and emergency services for all who need them.

The Sunday rally was called by Health Campaigns Together, Keep Our NHS Public, We Own It and People's Assembly, and supported by 15 national trade unions and other campaign groups.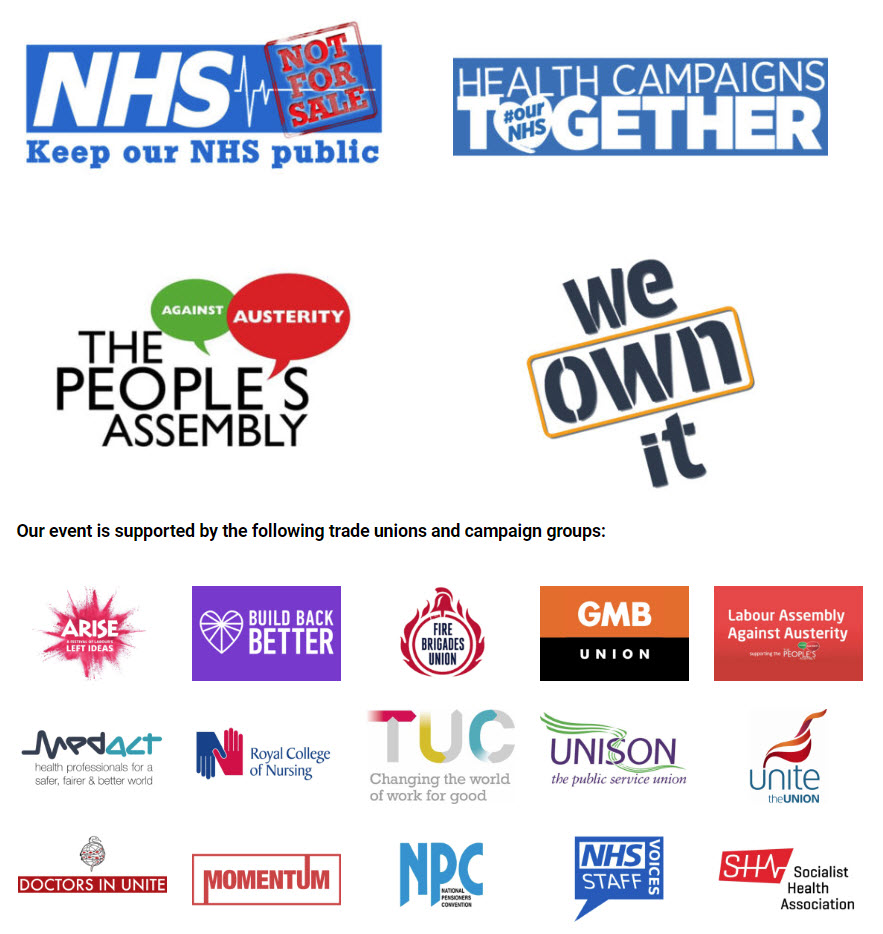 July 4 Events

Local Keep Our NHS Public groups ran socially distanced events in several areas to show support for our health service and its amazing staff and to demand it be fully restored as a well-funded, universal public service.

LONDON


Ealing: Ealing Save Our NHS held a combined NHS birthday celebration & protest over the cuts & closures at Ealing Hospital, 12.30 -1.30 on 4th July. There were banners and placards celebrating our NHS and highlighting the closures of emergency surgery, trauma and orthopedics services, as well as some speeches and songs.
Hammersmith & Fulham: A socially distanced rally opposite Charing Cross Hospital from 12.00 - 1.00 on Saturday 4th - with musicians and placards.
Lambeth: a group of campaigners displayed the group's campaign banner, along with posters and a birthday card to the NHS, at 2pm on Saturday 4th July on the corner of Lambeth Palace Road and Westminster Bridge, outside St Thomas's Hospital.
Lewisham: A small group of Save Lewisham Hospital Campaign members carried out socially distanced events with placards and banners outside Lewisham Hospital on 4th July. Local campaigners also produced a video to release over the weekend on the Save Lewisham Hospital Campaign's website and social media pages.
Tower Hamlets: midday at Whitechapel Ideas Store: a static rally with banners and placards.
Southwark: Activists held a vigil on Denmark Hill, outside King's College and Maudsley Hospitals, from 12 - 2pm.
GREATER MANCHESTER: Three socially distanced protests in Greater Manchester at 12 noon on 4th July.

Manchester: Oxford Road, opposite Manchester Royal Infirmary
Prestwich: near the walk-in centre, Fairfax Road, Prestwich, M25 1BT
Salford: by Salford Royal Infirmary


Bristol: Activists with Protect Our NHS displayed banners at a number of prominent locations around the time.
Southampton: Campaigners displayed banners paying tribute to our health service and expressing solidarity with health workers against privatisation, cuts, under-funding and unsafe conditions, in a variety of public sites around the city.
Romsey (Hampshire): There was a static protest with banners andp lacards outside the Plaza theatre at 10:30am, which then moved to stand outside Romsey Hospital.
Derbyshire: A motorcade with placards and slogans left Royal Derby Hospital at 11am on 4th July and ended up in Chesterfield. This was broadcast on social media.
South Warwickshire: There was a rally outside Leamington Town Hall, Saturday 4th July, 11am, with social distancing and masks. There were 'Happy Birthday NHS' banners and posters.
Nottingham & Nottinghamshire: Activists held an event during Friday evening rush hour from 4pm at the Bramcote roundabout on the A52 out of Nottingham towards the MI. There is a pedestrian bridge over the dual carriageway where we hung the banner for maximum visibility.
Leeds: Leeds KONP organised small but striking pop up events with banners, some costumes and music at both main sites of Leeds Teaching Hospitals Trust early afternoon on Saturday 4th July as well as a motorcade through suburbs of Leeds on Sunday 5th from 11am.
Liverpool: A car cavalcade met at around 11.45am on Beaumont St (near the Kingsley Road/Crown St junction); then progressed to meet static, socially distanced campaigners at the Liverpool Women's Hospital. The cars then proceeded to the Royal Liverpool University Hospital, again meeting with static campaigners there. There was a short 12:30 rally and drive-past. The cavalcade then went to the Aintree Hospital, meeting again with static campaigners there, and finished with a brief rally.