A coalition to defend #ourNHS
The Pandemic and Privatisation - how to fight back

A conference
Thursday February 25 2021, 6.30-8.30pm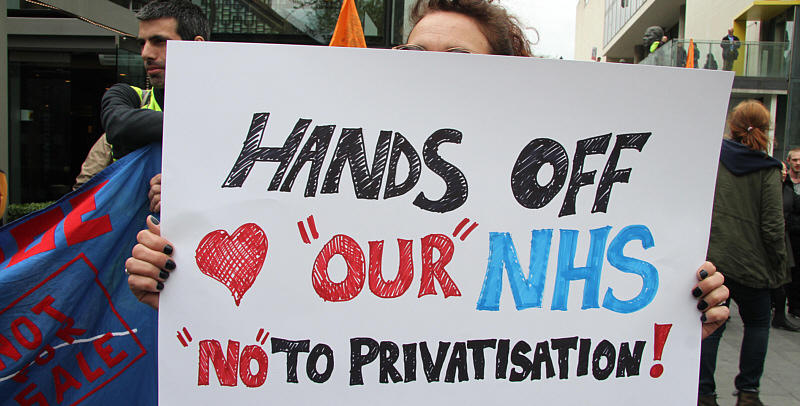 The vaccination programme that has been started promises an eventual end to the Covid pandemic, but not before huge contracts have been awarded - and long term damage inflicted on the NHS.

The pandemic has been a goldmine for private contractors and management consultants.
Billions have been signed away in questionable contracts with no scrutiny or accountability, and billions wasted on contracts that will not deliver, or result in unusable PPE and defective tests.


Such huge sums that could have been wisely spent on expanding and adapting NHS services and public health networks as assets for the future were instead frittered away on failed contracts with Serco, Sitel, Deloitte.


Parallel private systems have been set up, that do not properly connect with GP and hospital services, including 'lighthouse' laboratories for testing and processing tests - which we now hear are to be fully privatised.


Thousands of NHS beds have been closed, with thousands more lying unoccupied as winter pressures combine with further waves of Covid infection - while private hospitals have been gifted up to £10bn in contracts to treat NHS patients until 2024.


But while the private sector celebrates its new-found riches, the fiascos of failed private services have been exposed to millions.

Privatised test and trace systems have become byword for failure, just as poor standards of hospital cleaning epitomised the failures of the first outsourced contracts in the 1980s.

The question is how health unions and campaigners can work together and develop the right publicity and information to show the folly and expose the waste and inefficiency of privatisation and outsourcing?

Join us for an online conference on February 25, called by Health Campaigns Together, working in partnership with the health unions UNISON, Unite and GMB, the PDA union, the TUC, Keep Our NHS Public, the NHS Support Federation (NHS For Sale), and The Lowdown.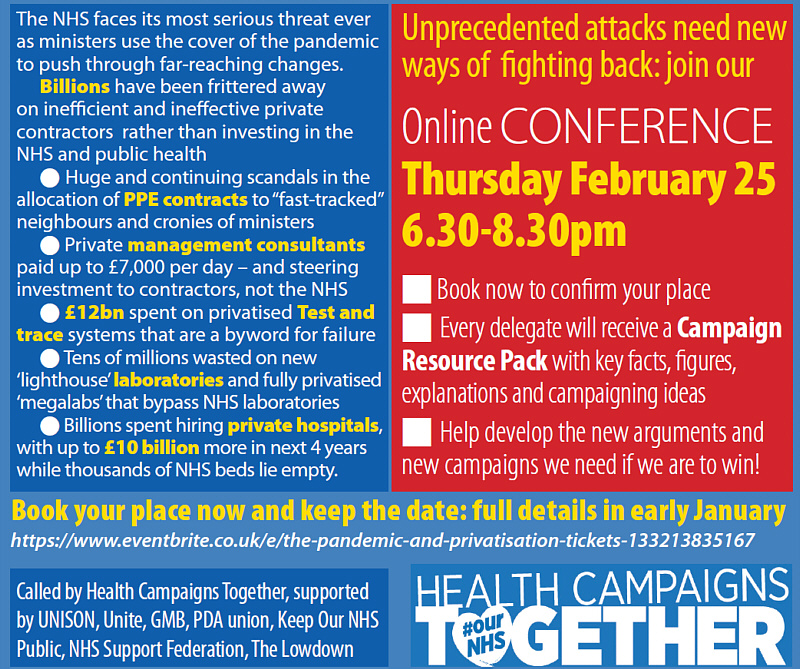 Thursday February 25 2021, 6.30-8.30pm
SAVE THE DATE: more details will follow
Details will come in the new year:


Register HERE to be kept informed.


The focus will be on the scale and impact of the new privatisation carried out under the cover of Covid - but also crucially on the ways we need to work to expose the truth to a poorly-informed public, in order to build a powerful campaign in defence of the NHS as a public service.


Copyright © 2021 Health Campaigns Together