Publications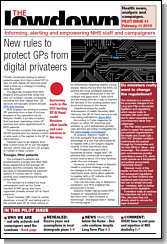 New Website and news bulletin - The Lowdown

The Lowdown aims to make evidence-based journalism and research on the NHS available to all campaigners and union activists, with a searchable website and a pdf round-up to supporters, beginning fortnightly and building to weekly to keep pace with fast-moving stories.

It will critique mainstream and specialist media news and break new stories.

The project, which has won catalyst funding from UNISON and Unite, is seeking sponsors and supporters to sustain it avoiding a firewall that would exclude many activists. Please support us. Contact The Lowdown at contactus@lowdownnhs.info



Don't miss this free offer!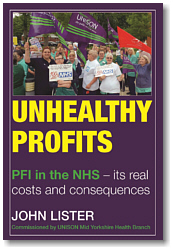 Unhealthy Profits, a full-length book on PFI (normal price £7.50) will be available FREE to download as ebook from Amazon for one weekend only: February 22-24.

Unhealthy Profits is written by John Lister and commissioned and published by UNISON Mid Yorkshire Health Branch. It covers the origins, theory and practice and the costs and consequences of the Private Finance Initiative in Britain's NHS, as well as the case study of the ongoing 25-year fight against it in Mid Yorkshire, and a chapter discussing what to do about it.

An extended Postscript looks at the spread of PFI and similar Public Private Partnerships around the world, creating similar problems for governments and health care staff and management.

One reviewer comments: "John Lister's excellent book on PFI combines very well his journalism and analysis skills. The level of detail is astonishing and this allows real strength to the demolition of the various bogus arguments put to justify and to defend PFI. … It supplies hard evidence and much ammunition to those who have campaigned against PFI and will do so again if it raises its ugly head."

The book is also soon to be available as a paperback (£9.99) from Amazon, with bulk orders (including colour photos) directly from the branch: midyorksunison@aol.co.uk.