CALENDAR of events
Sunday 27th January 2019
6:30 pm
Spit & Sawdust Music Hall
The Regal Theatre, Tenbury Wells
One night only - audience invited to dress in period costume!
All proceeds to be donated to Shropshire Defend Our NHS Campaign.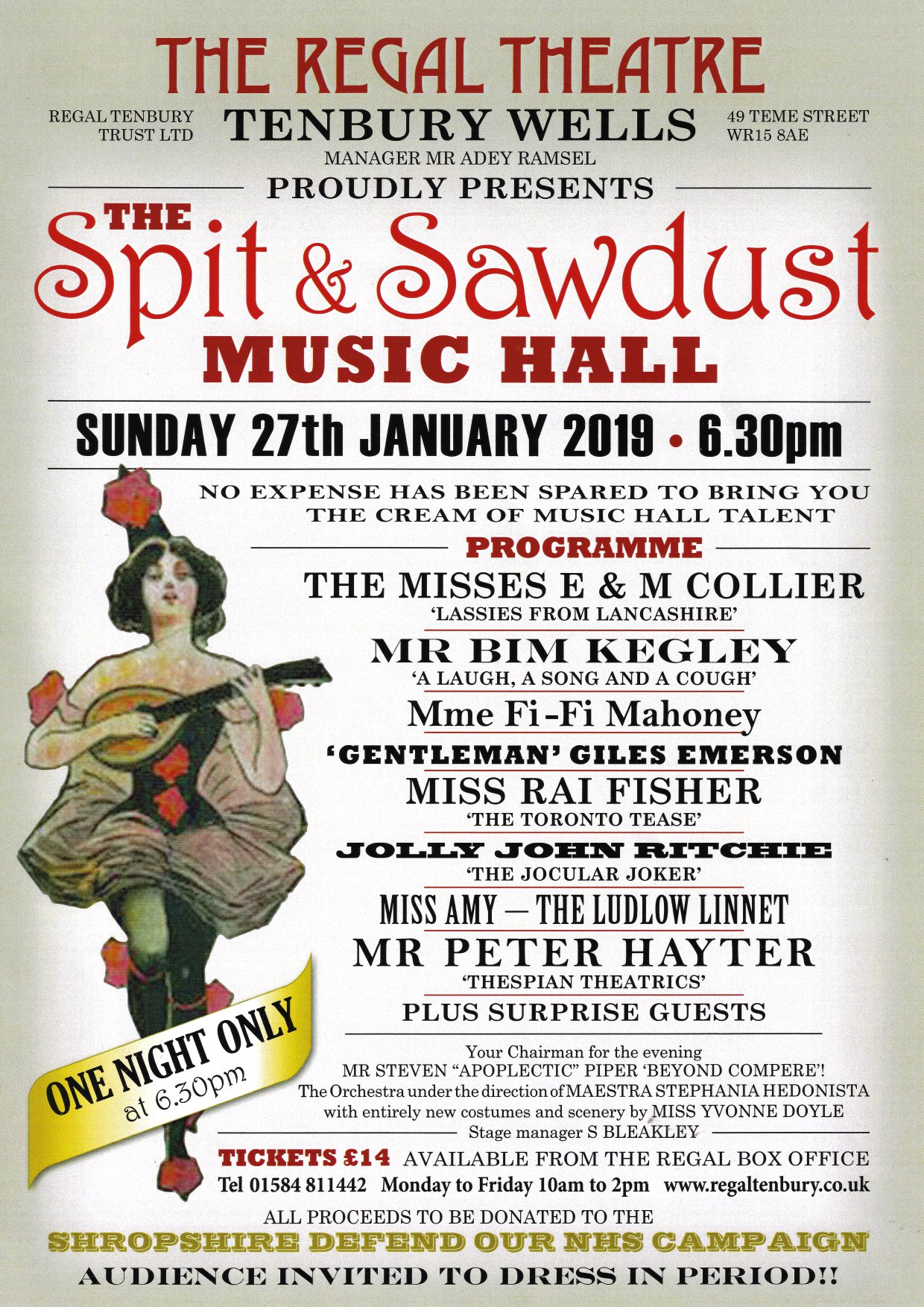 Thursday 31st January 2019
10:00am to 1:00pm
Long Term Plan is
Unfunded, Undemocratic, Unsafe!
Skipton House,
80 London Road
Elephant and Castle
London SE1 6LH
RALLY OUTSIDE NHS ENGLAND BOARD MEETING, called by Keep Our NHS Public.
Please come and join fellow KONP supporters in protesting the government's NHS long term plan.
KONP
Saturday 16th February 2019
1.00pm- 3pm
Hands Off QEQM!
Margate Methodist Church Hall
Union Crescent
Margate CT9 1PL
(near Cecil Square)
This is a meeting for the general public, arranged by Save Our NHS in Kent. We will be discussing the future of the QEQM, the plans that threaten A&E, maternity and stroke treatment for the people of Thanet, and we will be taking questions from the public. We want to hear your views.
Please be sure to put this in your calendar, and spread the word to your friends, colleagues and family.
The people of Thanet need to come together and fight back to ensure we have the health services we deserve, for ourselves and for the next generation.
facebook
Saturday 30th March 2019
11.30 -2pm
Yorkshire Health Campaigns Together Demonstration

Leeds Art Gallery
Continuing a long line of spring demonstrations in Leeds to defend health services in Yorkshire and the North.
No cuts, No closures, No charges!
NHS Long term Plan is Unfunded, Undemocratic, Unsafe!
Starts and finishes at Leeds Art Gallery!
Contact Leeds organisers